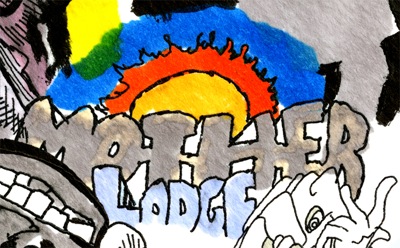 Here's all the news from our friends at the Motherlodge:
"On Sunday November 11th at 8pm, Motherlodge will present a one night Live Arts Exchange in the Victor Jory Theatre at Actors Theatre of Louisville.
The event will be a fundraiser for next Motherlodge's Spring 2013 program, which will be held  in Louisville March 29-31 2013.
The fundraiser on November 11th will be a one-night event that will celebrate the past 4 years of Motherlodge and share some plans for Spring Motherlodge. The evening will be broken into 2 acts with an intermission.
The centerpiece of Act 1 will be a play created by NYC illustrator Michael Arthur and playwright Ethan Lipton called The Barber and The Farmer. The play, performed entirely between Arthur's projected live illustration and a sound file composed by Lipton was performed in 2011 for Motherlodge at The Rudyard Kipling and was a standout of that year's program.
Act 2 of the fundraiser will include music and live performance by Bonnie "Prince" Billy, Adam Rapp, Roadie Rodahaffer, and Scott Anthony. Other performers that night will include The Bard's Town's Doug Schutte and The Derby City Dating Scene, and more to be announced.
Tickets for this event are $35 and can be purchased at www.motherlodge.com or at the door (316 West Main St.)."